Biography
Isidro Sánchez-García's biographical sketch
Isidro Sánchez-García is a Senior Staff Scientist at the Instituto de Biologia Molecular y Celular del Cancer (IBMCC) of the Spanish National Research Council (CSIC). He learnt and practiced Medicine before completing his Ph.D. at University of Salamanca. Isidro was a postdoctoral fellow for five years at the Medical Research Council's Laboratory of Molecular Biology in Cambridge (UK) before appointment to his current position in 1997.
My research is focused on attaining a better understanding of the initiation, maintenance, and progression of leukemia, toward improving current treatment and/or prevention strategies. In this effort, I employ tools from functional genomics, computational biology, molecular genetics, and mouse models.
I hope to apply this knowledge to change the way we approach leukemia, from diagnosis and treatment to prevention first.
This work has allowed to establish both a pioneer relationship between stem cells and cancer and a causal link between infection and leukemia. The novel scientific achievements and ideas have not only resulted in high quality publications during his career but also they have crystallized into the first European patent granted in the field of Leukemia/Cancer Stem Cells.
This work has been awarded by the International Carreras Foundation (http://www.carrerasfoundation.org/fellow_bio.htm), and by the Eurosystem prize in 2010.
His research group hopes this investigation will result not only in new concepts in cancer biology and development, but also it will provide the basis for the development of both a new strategy in cancer therapy and new methods for assessing treatment efficacy.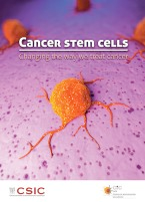 POSICIONES DE MASTER Y TESIS:
El grupo tiene abierta dos posiciones anuales para nuevos candidatos interesados en trabajar con nosotros. Se require un grado biomédico y un expediente superior a 2.8. Ponerse en contacto con el investigador principal.